Chamber Works & Solos | Choral | Handbells | Wind Ensemble
Usage
Many of the pieces listed below include a link to the full score. Anyone is welcome to download and perform those works. I only ask that you send me a copy of the program if you actually perform them.
A collection of short pieces that explore the different fundamental elements of music using avant garde styles and techniques.

One of my primary hobbies is involvement with the Society for Creative Anachronism (SCA), a worldwide non-profit organization that studies, teaches, and re-creates most aspects of life from the Middle Ages. I am heavily involved in teaching dance. To combine my music composition background and my love of medieval/Renaissance dance, I began writing my own dance tunes and choreographing them. They are similar to period English Country Dances as found in the first couple of editions of Playford's Dancing Master, with the tunes and the dance steps being typical for southern England around 1600. My plan is to collect these into a document and present them as a "long-lost manuscript" that has recently been found. I call it the Chichester Manuscript.
Chamber Ensembles / Solos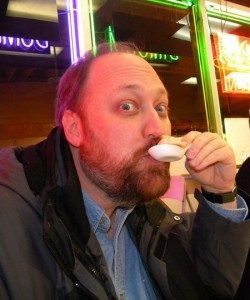 Six Episodes for Unaccompanied Oboe (2008, 2009, 2010, 2011, 2012, 2013)
solo oboe
a collection of short one-page works written one per year for 6 years
may be played in any order
the complete set of sheet music is available here
video of #1-3 at http://youtu.be/_c2to52PEAU
Sailing Away (2012)
flute trio (two standard flutes, one alto flute)
in honor of the retirement of Lewis R. Miller, Dean of Libraries at Butler University
full score available here
video at http://youtu.be/RPNVEP6jaZQ
Birth of the Dragon Nebula (2010)
Bb clarinet, tuba, piano, and three percussionists
uses spatial-proportional notation
full score available here
Meditation for Alto Flute (2010)
Snaggleteeth (2010)
TripleThreaT (2010)
alto saxophone and two tenor saxophones
written for Dr. Michael Schelle who loves Triplets
full score available here
Fourteen Dancing Strings (2009)
guitar, viola, and double bass
three movements: Watusi, Habanera, and Tarantella
complete score available here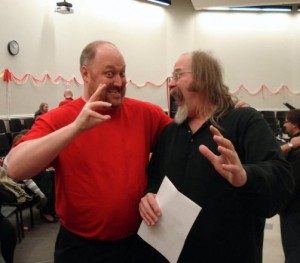 Night Life on Venus (2009)
digital recorded medium (electronic composition)
created with Reason 5.0
audio recording available here
Vestiges of a Dream (2009)
Wholly Tonitrophobic (2009)
any number of C or Bb instruments
an "open form" piece where parts of the piece are variable based on performer choices
full score available here
Mallet-justment: A Musical Palindrome (2008)
Bang-A-Box (2008)
Di Criceto Sogno (1989)
flute, clarinet, and tenor saxophone
my first ever original composition
full score and parts available here
Choral / Vocal
The Waits (A Christmas Carol) (2019)
SATB a capella choir
text by Margaret Deland (1857-1945)
In English
Benedictus es (2019)
SATB a capella choir
from Daniel 3:52-55 (Blessed are You, O Lord)
In Latin
Nunc Dimittis (2019)
SATB a capella choir
also called Simeon's Song (Luke 2:29-32)
In Latin and English
Divine Liturgy of St. John Chrysostom (2013-2015)
SATB a capella choir
appropriate for Orthodox Christian and Eastern Catholic services or for concerts
Check my Orthodoxy page for the description and music
Be Still My Soul (2012)
The Lord's Prayer (2009)
Epitaph (2008)
Venite popoli lodate (Salmo 66) (2004)
SATB a capella choir
text in Italian from Psalm 66
written for the Cornerstone University Chorale
score available here
video at http://youtu.be/zWNLBkJfPdE
Response of the Angels (2002)
6 octaves of handbells and women's chorus (SSAA)
written for Embellish Handbell Ensemble and the Calvin College Women's Chorus
Confession (1993)
SATB a capella choir
Text from Psalm 32:1-5; 51:1-2, 10, 17; 86:5
Handbells
If a composition or arrangement is not otherwise available, please contact Scott to view a score or hear a recording.
Original Compositions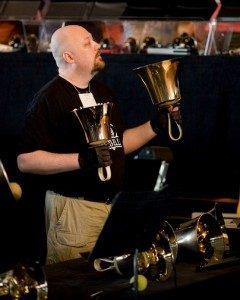 Psalm 23 (2019)
2-3 octaves of bells
a simple original composition ideal for a church service
Haunted House (2017)
3-6 octaves of bells and 3-5 octaves of optional chimes
a musical walkthrough of a spooky house
additional visual or sound effects may be added
published by AGEHR Publishing via Lorenz
Wind Suite for Handbells (2017)
3-6 octaves of bells
each movement is based on a wind from around the world

I. Williwaw (3-5 octaves)
II. Mistral (3-5 octaves)
III. Chinook (3-5 octaves)
IV. Simoom (3-5 octaves)
V. Zephyr (3-6 octaves)
VI. Chubasco (3-5 octaves)
Handbell Salsa (2017)
3-6 octaves of bells
alternates between hot and mild
syncopated with clave rhythm and techniques including TD, gyros, and mallets
Mallet Madness (2017)
3-6 octaves of bells
completely malleted
rather fast and syncopated
Celestial Impressions (2017)
3-6 octaves
based on Psalm 148:2-4
slow, with very fluid beginning and ending
available at Sonology Music
Summer Storm (2011)
4-7 octaves
a "contemporary classical" piece using some avant garde techniques to musically depict a rainstorm
published by Tinnio Ergo Sum Press
also available at Sonology Music
[Bride's Name Here]'s Theme (2010)
3-6 octaves
a customizable wedding processional where even the title can be changed to fit
full of optional repeats and movable sections
written for the wedding of Karen and Dan Wiggins
available at Sonology Music
Six-in-Hand Sonata (2008)
six-in-hand soloist and 4-6 octave ensemble
the six solo bells are taken out of the ensemble
published by Tinnio Ergo Sum Press
Rondo Azzurro (2005, 2010)
4-5 octaves
performed at Pinnacle 2010 by the Circle City Ringers
written for the Circle City Ringers
published by Tinnio Ergo Sum Press
3-7 octaves
available at Sonology Music
Appalachian Sunrise (2004)
3-5 octaves of handbells or chimes
published by Tinnio Ergo Sum Press
also available at Sonology Music
Celebrondo (2004)
4-6 octaves of bells and 5 octaves of chimes
mostly in 7/8 time
Fuzzy Logic (2003)
Triad (2003)
4-6 octaves of handbells and optional chimes
a three-movement suite combining original melodies with familiar hymn tunes; may be performed together or separately

Exaltation
Reverence
Worship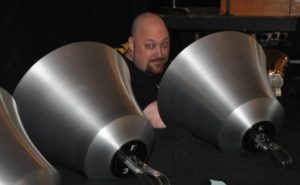 Funktasia (2002)
Response of the Angels (2002)
6 octaves of handbells and women's chorus (SSAA)
written for Embellish Handbell Ensemble and the Calvin College Women's Chorus
Late Night Blues (2001)
On the Street Corner (2001)
Neon Blitz (2000)
4-6 octaves
modern rock style, with driving bass and syncopated rhythms
published by Tinnio Ergo Sum Press
A Kingly Fanfare (1991)
Scott's first handbell composition, written for his own wedding, used as the recessional
Arrangements & Transcriptions
Veni Emmanuel (2018)
2-3 octaves of bells
based on the 13th century plainchant
very smooth and chantlike
Now Thank We All Our God (2018)
2-3 octaves of bells
a gentle setting of Johann Crüger's NUN DANKET from the 17th century
Guide Me (2018)
2 octaves of bells
an interesting arrangement of John Hughes' 1907 CWM RHONDDA, or Guide Me, O Thou Great Jehovah
Reki (Rivers) (2017)
3-6 octaves of bells
a medley of Russian folk songs
includes "Song of the Volga Boatmen," "The Cossacks Ride over the Danube," and "Kalinka"
Eternal Hope (2017)
3-5 octaves of bells
based on PROSPECT, a hymn from Southern Harmony (1849)
Moonlight Sonata (2015)
4-7 octaves of bells
was originally written by Ludwig van Beethoven
commissioned by Lisa Vandertol in honor of her father
Golliwog's Cakewalk (2012)
4-6 octaves of bells
was originally written by Claude Debussy
Sweet Hour of Prayer (2012)
3-5 octaves of bells
was originally written by William B. Bradbury
The Lily of the Valley (2012)
3-5 octaves of bells
was originally written by William S. Hays
David's Prayer (2012)
Baritone soloist and 4-6 octaves of bells
was originally written by Michael Costa
commissioned by Eric J. Wickens
Evening Hymn (2011)
Baritone soloist and 5 octaves of bells
was originally written by Henry Purcell
commissioned by Eric J. Wickens
Funeral March (2009)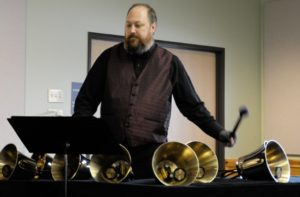 4-6 octaves
Chopin's "Funeral March" (from his Piano Sonata Op.35)
published by Tinnio Ergo Sum Press
Allegretto (from Beethoven's Symphony No. 7) (2008)
4-6 octaves
the Second Movement from Beethoven's Seventh Symphony
published by Tinnio Ergo Sum Press
Aubrey's Waltz (2008)
4-6 octaves
was originally written by Luigi Boccherini and called "I spagnoli si divertono per la strada"
made popular in the movie "Master and Commander: The Far Side of the World"
published by From The Top Music
Larghetto (from Benda's Sinfonia No. 11) (2008)
3-5 octaves
from Georg Benda's Sinfonia No. 11
published by Tinnio Ergo Sum Press
also available at Sonology Music
Minute Waltz (2008)
3-7 octaves
Frederic Chopin's Waltz, Opus 64, No. 1, marked molto vivace
published by Tinnio Ergo Sum Press
also available at Sonology Music
Ave Verum Corpus (2006)
3-5 octaves of handbells and chimes
a short Eucharistic hymn by Mozart, originally for SATB choir, strings, and organ
published by Tinnio Ergo Sum Press
also available at Sonology Music
2nd Suite in F (Holst) (2005)
3-7 octaves of handbells and 3-5 octaves of chimes
all four movements of Gustav Holst's Second Suite for Military Band

March (arr. for 3-7 octaves of bells & 3 octaves of chimes)
Song without Words (arr. for 3-5 octaves of bells and 3-5 octaves of chimes)
Song of the Blacksmith (arr. for 4-5 octaves of bells)
Fantasia on the 'Dargason' (arr. for 5-6 octaves of bells and 5 octaves of chimes)

published by Tinnio Ergo Sum Press
also available at Sonology Music
William Bell's Overture (2005/2009)
2-4 octaves

Scott's original transcription of the final part of Gioacchino Rossini's overture (the "Lone Ranger" part)
published by Tinnio Ergo Sum Press
also available at Sonology Music

4-7 octaves

expanded and reworked
performed at Pinnacle 2010 by the Circle City Ringers
published by Tinnio Ergo Sum Press
also available at Sonology Music
Ravel's Bolero (2004)
6 octaves of handbells and 3 octaves of chimes
variations on Maurice Ravel's famous piece
written for Embellish Handbell Ensemble
performed at Pinnacle 2004 by Embellish
available at Sonology Music
Slavonic Dance #8 (2001)
5-6 octaves
from Antonin Dvorak's first set of Slavonic dances, Opus 46
Christmas
Wenceslas Variations (2018)
3-6 octaves
variations include playing the theme against Chopsticks, Drunken Sailor, Great Gate of Kiev, and Bach's Brandenburg Concerto #2
Midnight Clear (2018)
Jingle Bellistic (2011)
3-7 octaves
dedicated to Bellistic! of Grand Rapids, Michigan
published by Tinnio Ergo Sum Press
Tannenbaum Variations (2007)
3-6 octaves
written for the Circle City Ringers
published by Tinnio Ergo Sum Press
Rise up Shepherds and Swing (2004)
5 octaves
jazzy arrangement of this Christmas song
written for Embellish Handbell Ensemble
Betlehem Városban (2003)
3-6 octaves
traditional Hungarian carol
published by Tinnio Ergo Sum Press
Ein Kindlein in der Wiegen (2003)
3-6 octaves and SATB choir
traditional Austrian carol
published by Tinnio Ergo Sum Press
Los Peces en el Rio (2002)
4-6 octaves
traditional Mexican carol
written for Embellish Handbell Ensemble
published by Tinnio Ergo Sum Press
also available at Sonology Music
Once in Royal David's City (2002)
3-6 octaves
jazzy arrangement of this Christmas song
published by Tinnio Ergo Sum Press
Wind Ensemble / Concert Band
The Memory of Persistence (2010)
Scott's Master's Thesis Composition
The piece is a combination of styles, philosophies, and techniques, all in balance with each other. Avant-garde and traditional techniques are used; tonality and atonality vie with each other, resulting in a combination of the two; specific musical directions are balanced by a degree of choice available to each participant.
available for free through Butler University's Digital Commons
A Russian Soldier (1990)
Scott's Bachelor's Degree Final Composition
incorporating several Russian folk tunes and blending them with original melodies