The Divine Liturgy of St. John Chrysostom (in English)
by Scott Pfitzinger
Beatitudes (Third Antiphon) – PDF, mp3
If you are interested in sharing any of this music with the music director in your local Orthodox or Eastern Rite Catholic parish or with any choir director, please feel free to print or email these files. I only ask that you let me know if you're using them in a public way (a service or concert), so I can learn where the music is being used. Thanks!
---
The Roman Catholic and Orthodox Catholic Churches have been separated for about 1,000 years. There is still debate about who left whom, but I choose to align myself with Pope St. John Paul II, who called the East and West Churches "the two lungs of Christianity" and said that "Europe has two lungs; it will never breathe easily until it uses both of them."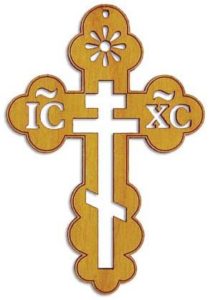 I was already writing choral music with more and more of a similar style to that of Russian choral music, specifically a cappella and generally homophonic, and I spent three years in the Orthodox Church, so it is only natural that I would feel compelled to write Orthodox liturgical music. In the Orthodox Church, the primary "Sunday service" is called the Divine Liturgy. The liturgy used on most Sundays is the Divine Liturgy of St. John Chrysostom. I am writing my own musical setting of this liturgy (similar to Rachmaninoff, Tchaikovsky, and Leontovych) in a way that most Orthodox parish choirs can easily incorporate them on a Sunday. And, like these other composers, the entire chorale can also be performed in a concert setting.
NOTE: The Divine Liturgy is also used in Eastern Catholic services.
As I complete the various sections of this liturgy, I will list them at the top of this page and include PDF and mp3 links (synthesized audio) for each one.